Charter Buses
While still the best choice for transporting large groups for touring and extended travel, charter buses may also be used for events which you hadn't considered. Large family gatherings such as weddings and reunions may benefit from utilizing a charter bus to transport guests to and from the celebration site. Charter buses can also be used for business purposes - shuttling employees from one facility to another and also for marketing/advertising.
Mini Buses
Mini buses are typically used for short trips and are a viable mode of travel for senior centers and active adult/retirement communities. Many towns also use mini buses to transport residents for Dial-A-Ride services.
Mini bus and party bus rentals are fast becoming popular modes of transportation for an evening out with friends.
Limousines
Limousines are the ultimate way to travel - while popular for weddings, they can also be used for airport transfers, business travel and other occasions when you want to feel like a celebrity! For a special night on the town, you and your friends can share the cost of a limousine and have door-to-door service. No need to worry about overindulging, parking or the weather - your chauffeur-driven limousine is just a phone call away!
Why Chose Direct Connect Charter Bus Service Nationwide
Direct Connect Charter bus is better than the national services because our professional sales staff is ready to do all the leg work for you. We know the market and will provide you with free quotes to fit your budget. Why waste time shopping our service is free and we directly connect you with locally owned bus companies so you know exactly what you are getting. Take the fuss out of booking a bus call Direct Connect the bus you can trust for free quotes. Our guarantee is to beat and or match any price in the market for comparable CHARTER BUS, SHUTTLE BUS OR MINI BUS SERVICE with the best equipment and excellent customer service.
Direct Connect will handle all of your travel needs from airport shuttles to booking your accommodations. There are no hidden fees. You will contract directly with the bus company, see photo's of your bus interior and exterior and be provided with a SAFER report provided by the DOT in your State as well as a copy of the Insurance we can even add your group as an additionally insured at no extra cost.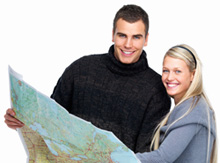 We will ensure your group is covered by the law required liability insurance and the bus meets our minimum safety requirement of 75% safety rating from the Federal Motor Carriers Safety Association (FMCSA) and carries active liability insurance of $5,000,000.
We can manage large events or small events and we provide personalized service to each and every one of our clients. We will also manage your itinerary changes from start to finish through our customer support department and stay with you until your service has been rendered, we are with you all the way.
We are on-call 24 hours, NATIONWIDE. Need a bus? Leave the competitive shopping to us, Direct Connect is the bus you can trust!
A National woman owned company.
What sets us apart: You are not booking with a national broker you are booking with a local company. We take the guess work out.